This is a super easy project to make your own vintage-y framed key art. Start with an old frame with good details. This one was a thrift store find.
Paint with Heirloom White spray paint- remember when it was used for EVERYTHING in bloggy-land?  Add some glaze to bring out the details.
Set aside the glass insert- you won't need it for this project. Cover the cardboard insert of your frame with a piece of fabric. I used a scrap of canvas drop cloth cut a little larger than the cardboard. Just wrap and hot glue the edges to the back side of the cardboard.
Center your key and hot glue into place. This key is just a decorative piece and very lightweight, so you could probably leave it at that. However, I thought it needed a little reinforcement.
Can you see the wire just below the ridges of the key? I cut a short piece of picture hanger wire, about 3 inches long, then separated a couple of strands.
It was too bend-y to push through the fabric & cardboard, so I threaded it through a needle and bent down the end to hold it in place. Push through close to one side of the key, being careful not to pull the wire completely through.
Unthread the needle and rethread the other end in order to pull the wire across the key and again push through to the back side.
Twist the two ends together. Add a little hot glue just to make sure the wire doesn't pull back through the cardboard. Repeat a little farther down the key.
Pop into the frame, put the backing into place, and you're done!
I found a bag with several of these keys at a thrift store, so I need to come up with some more projects for them. Should I make more framed key art? Any other ideas?
Doodles,
I was featured!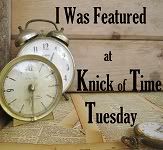 Partying here: